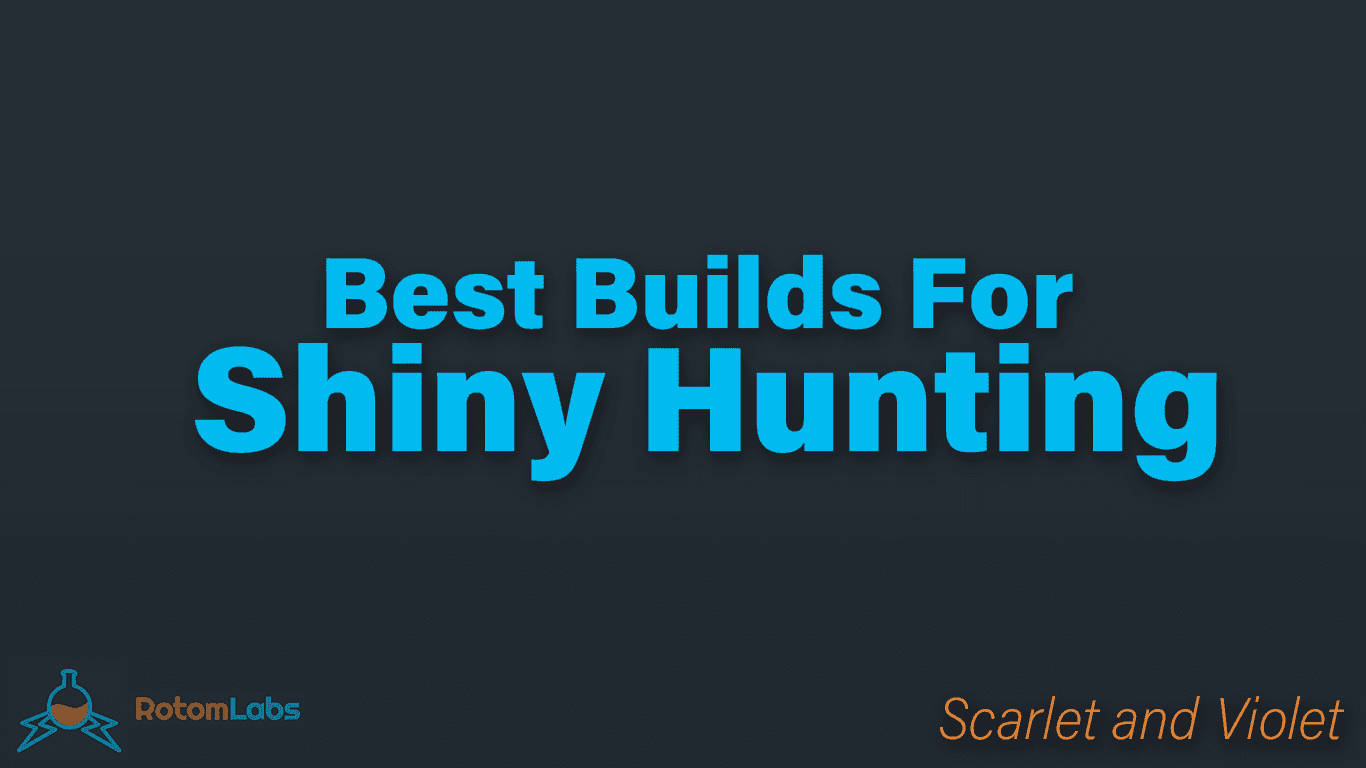 Effective Pokémon for Shiny Hunting in Scarlet and Violet
---
Table of Contents
After spending hours hunting a shiny in Pokémon Scarlet and Violet, the worst thing that could happen is having it struggle to death. To be honest, this is probably the most painful part of shiny hunting and our hearts go out to those that have experienced it. So, to help minimize your chances of a "struggle death" and to increase your chances of a successful capture, we present the following Pokémon for use in your catching squads!
Some of these work better than others, especially when fighting particular types of Pokémon, so be sure to read some of our analysis as well! Don't forget to check out our Scarlet and Violet catch rate calculator to know what your chance of capture is!
Additionally, we're including good Tera Types to help guard against some weaknesses of Pokémon you might want to hunt. Remember, you can Terastalize once per battle and then recharge your orb at any Pokémon Center. If you're hunting multiple Pokémon in one session (like in an outbreak or on a sandwich), consider using another Pokémon as well.
link
Iron Valiant
Iron Valiant (Fairy/Fighting)
EV Spread

: 252 HP / 4 Def. / 252 Sp. Def.

Tera Type: Steel

Held Item: Wide Lens/Quark Drive

Moveset:

False Swipe

Hypnosis/Thunder Wave

Taunt

Double Team
For this Iron Valiant, we're going for something a bit bulkier and that can handle a good number of Pokémon types. The EV investments make sure Iron Valiant takes minimal damage against most attack types. With the Steel Tera type, it can go up against Psychic-, Flying- and Steel-type opponents.
As for the various moves, False Swipe is a must-have! False Swipe bring your opponent down to 1 HP. However, if the Pokémon you're hunting has any recoil moves, you should avoid False Swipe! We also offer a choice between Hypnosis and Thunder Wave with Wide Lens for a 91% accuracy status move, as status moves increase your capture rate (Sleep gives a higher bonus than Paralyze). You should also bring Taunt to prevent any setup moves the opponent might have as well as avoid moves like Memento that could make the target self-faint. Double Team also makes it easier to dodge moves, keeping Iron Valiant up longer without heals.
link
Iron Valiant Second Set
Iron Valiant (Fairy/Fighting)
EV Spread

: 252 HP / 4 Def. / 252 Sp. Def.

Tera Type: Steel

Held Item: Leftovers

Ability: Quark Drive

Moveset:

False Swipe

Hypnosis/Thunder Wave

Taunt/Substitute

Double Team
This set is very similar to above, the main difference comes from a small bit of set-up. First, use an X Accuracy which will raise Iron Valiant's accuracy by two stages, ensuring a guaranteed Hypnosis for the rest of the battle. This frees up the held item to be Leftovers, which adds a slow recovery option keeping it around longer.
In general, Iron Valiant (with its base stat total of 590!) is a great shiny hunting option. It's honestly just a better Gallade!
Breloom (Grass/Fighting)
EV Spread

: 252 HP / 4 Def. / 252 Sp. Def.

Tera Type: Rock

Ability: Poison Heal (standard ability)

Held Item: Toxic Orb (if it has Poison Heal)

Moveset:

False Swipe

Spore (Only available while a Shroomish, Level 40)

Substitute

Charm
Breloom is typically a bit of a glass cannon, with high attack stats and moderate defense stats. The EV investments, like with Iron Valiant, are to ensure that it is plenty bulky! Do note that Breloom is double weak to Flying-type Pokémon, so the Rock Tera type will help it against Flying and Fire types. Breloom can now get Poison Heal in Scarlet and Violet, so with the Toxic Orb held item, you also get a constantly-active recover, Plus, your opponent can't paralyze or sleep Breloom while it's poisoned!
Again, we highly recommend False Swipe, as it brings the opponent down to 1 HP. Just be sure to watch out for recoil moves! As for putting the opponent to sleep, Spore is a 100% accuracy sleep move, but be warned that it does not work against Grass-type Pokémon! Substitute and Charm work together to make it harder for the opponent to damage you.
Breloom is one of the most trusted and coveted shiny hunting Pokémon since it has both Spore and False Swipe. The biggest drawback is that it falls short only against other Grass types due to lack of additional status moves. However what Breloom lacks in stats and coverage, it certainly makes do with massive utility!
link
Tatsugiri
Tatsugiri (Dragon/Water)
EV Spread

: 252 Speed

Tera Type: Any

Ability: Storm Drain (Hidden)

Moveset:
Tatsugiri is an excellent option for using Soak to transform Ghost- and Grass-type Pokémon into pure water types. This allows us to use False Swipe on Ghost types and Spore on Grass types, which our previous builds use to increase the catch rate of our target significantly. Tatsugiri also has Memento, which causes Tatsugiri to immediately faint while also lowering Attack and Sp. Attack by two stages (halving the stats!) so that you can swap in for Breloom or Iron Valiant faster than just switching out. Taunt is on the set so you can outspeed opposing Taunts to ensure Soak and Memento are successful (check your target Pokémon to see if it has Taunt at the level you encountered it).
Pelipper (Water/Flying)
EV Spread

: 252 HP / 4 Def. / 252 Speed

Tera Type: Any

Ability: Any

Held Item: Focus Sash

Nature: Any +Speed

Moveset:

Soak (Level 1, relearnable only)
Pelipper has only one function here: make a Ghost- or Grass-type Pokémon into a water type. On Turn 1, have it use Soak and then on turn 2, switch it out for any of the above catching specialists. Turning a Ghost type into Water lets us use False Swipe, which it would have been previously immune to. Turning a Grass type into Water allows Spore to hit successfully. Soak makes a Pokémon a pure Water type, meaning any typing or dual typing is overwritten. Giving it Focus Sash means it will always live a hit (unless the opponent has a multi hit move like Rock Blast) and get Soak off successfully.